I am Chandrima, a pure Bengali at heart. Love everything Bengali to the moon and back.

Why I started Chandrimas.com...

My Dear Friends,
Hello! Thank you from the bottom of my heart for visiting my website and taking your valuable time to know more about me. It's really important to me that you know why I am doing this.
You see, just like you, I am incredibly passionate about everything- It's food, arts & crafts, films, dresses, jewelry, festivals, books- what's not to love?
As you are miles away spreading the sweetness of Bengal in faraway lands, I feel honored to bring you closer to everything Bengali. Chandrimas.com is my way of reaching out to every Bengali and every Indian out there.
A little bit about me...
I am the daughter of Chandan Bhattacharjee, the famous East Bengal football player of the 80s. I grew up watching my father donning the East Bengal jersey and rubbing shoulders with many of the superstars of that era. Doing something to put Bengal on the global map, and become famous just like my dad was my childhood dream.
Growing up, the essence of had a tremendous influence on me. Now, with my loving family i.e. my husband Raja & my son Rohan, by my side, I thought of realizing my love for and what better way to do this than a "ghyama" website to reach out to all of you... and that's how the very thought of Chandrimas.com was born.

Quality is of paramount importance to me. I have personally checked and vetted everything on this website. Every item that appears on this site has come from me with a touch of love, passion, and purity, just like.

Come, let's embrace the purity of Bengal and other regions of India!
Thank you for reading and being a part of my journey.
Thank You
Yours Chandrima!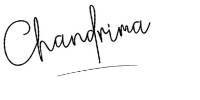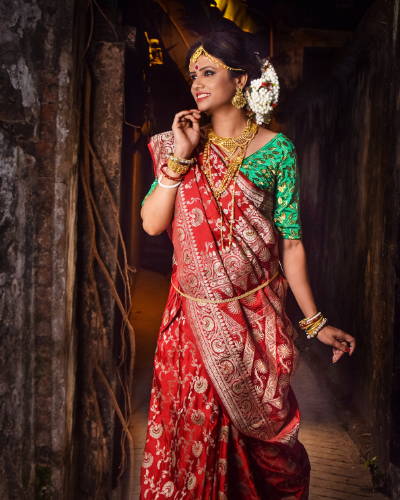 Bengali clothing is the accurate reflection of history, art and value systems that have driven Bengalis for centuries. The love for traditional techniques of weaving, embroidery, and stitching remains remarkably intact in Bengal's sartorial legacy, despite coming in contact with so many cultures and dressing styles.
From Sarees to Khaadi Dresses, this legacy is the common heritage of present-day Bengal where these traditional methods of curating beautiful weaves exist in curious harmony with the modern-day synonymity of the 'fashionable' with the western-wear.
The colors are not over the top as natural dyes are used, and everything is cotton according to the weather. Dhoti and Punjabi get an entirely new flavor which is quintessentially Bengali, yet has universal appeal.
The most distinctive feature of a Bengali wardrobe is that there is clothing for every occasion. Every item in the closet has a specific function.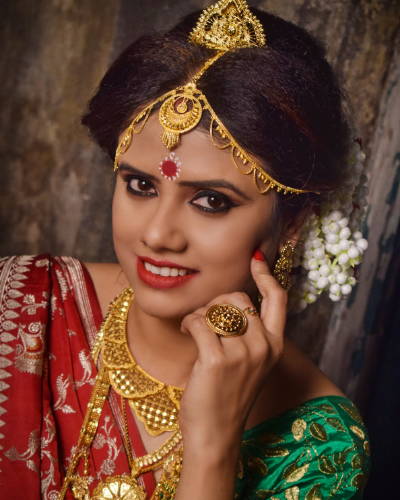 To most Bengalis, jewelry is not mere ornamentation. It is a tradition and legacy passed on through generations bearing love, blessings, and heritage of a family.
Bengali jewelry is as steeped in Bengal culture as the ceremonious ulu-dhwani or the auspicious shankh-dhwani. Keeping in mind the rituals that are close to every woman's heart, most of the Bengali jewelry like paati haar, chik (choker) necklace, the tiara and the tikli (maang tikka)are handcrafted to perfection by the karigars.
Be it Durga pujo, Kali pujo, Jagadhhatri pujo, Lakshmi Pujo or Saraswati Pujo; there is jewelry for every occasion. The handcrafted jewelry, especially Dhokra jewelry is created to make the Bengali woman look like a vision similar to the goddesses she so dearly worships!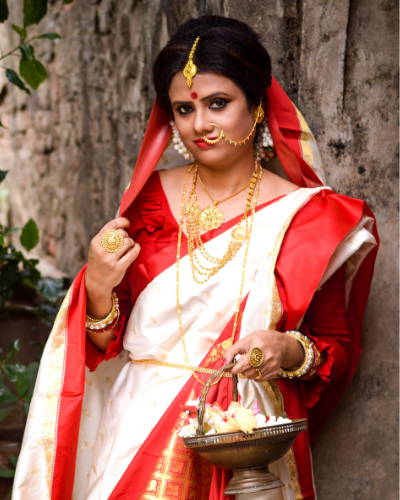 The culture of Bengal is one of the oldest and the richest cultures in India. It proudly boasts of its immense contribution in several reform movements, that originated here, but later on, spread out to many parts of the country as well as around the world. Over the decades, it has emerged as a perfect blend of modernity steeped in traditions.
If we say that Bengalis pioneered the uber-chic cosmopolitan culture in the country, it won't be an exaggeration. Not just culture, Bengal's history is studded with mind-boggling legends which are supported by hundreds of inscriptions scattered over the whole of Bengal- the living testimonies to the splendor that was Bengal in the past.
A prosperous culture, Bengal is a treasure trove of surprises. Whether it is the grandiose cultural events that seem to glorify the region or the different religions all assimilating into one .
There is so much more to West Bengal than big red bindis, Durga Pujo and dhoti kurtas. From Literature to Music, Films to architecture, and most importantly, food, Bengal is colorful and vivid imagery of a glorious past, a riveting present, and an exciting future.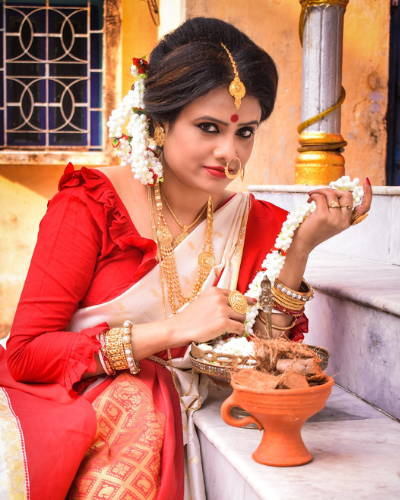 'Baaro mash e tero parbon' - thirteen festivals in twelve months is the apt way to describe the cultural diversity of Bengalis. Community feasting is as much a part of the celebrations as the festivals themselves.
Bengal is not only about Durga Puja, Kali Puja or Saraswati Puja. There are many folk festivals like Tusu, Gajan, Neel, and Charak, which are being celebrated with as much festive fervor for centuries.
Communities belonging to all religions and various beliefs come together to celebrate each festival, making Bengal a melting pot of all the cultures present in Indian Subcontinent. Bengali art and culture is the highlight of all these festivals, and the age-old traditions blend beautifully with heart-warming customs.
The love for art is depicted in stunning decorations at pandals erected during the famous puja festivals which force the entire world to sit up and take notice of the everlasting and undying Bengali spirit.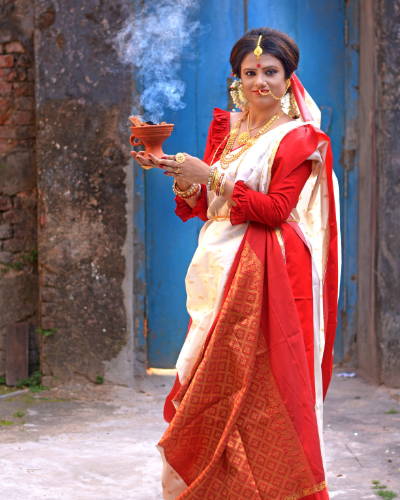 Bengalis can dance their way to any occasion. Such is the love to promote this art that from rituals to satires, allegories to social – every theme is covered with enthusiasm, passion, and soul-soothing music.
Transcending mundane to aesthetic, Rabindrik dances are all about expressing human life emotions of remorse, pain, celebration, and love. Folk dances like Chhou, Rava Dance, Jatra, and Lathi Dance are an accurate reflection of Bengali culture, traditions, and customs and are performed around the year on various occasions, fairs, festivals, and religious conglomerations.
Bengali Dance is the true reflection of creativity and imagination of people of Bengal. Deeply inspired by traditional Indian classical music, Bengali dance and music beautifully weaves the thoughts of philosophy, love, devotion, and sacrifice.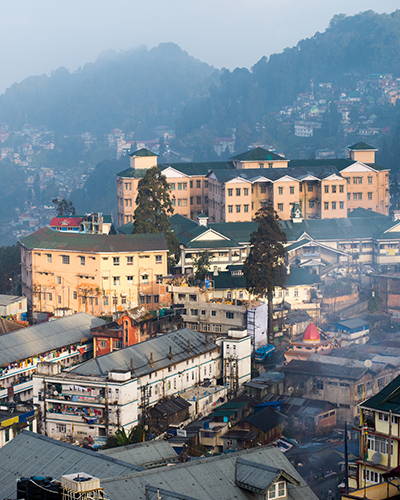 No other state in India comes close to Bengal. It is the only state in India with the Himalayas in the north and an Ocean in the south, with plains and rolling plateaus dotting the remaining region.
The Himalayan town of Darjeeling is known for its tea, scenic beauty, and woolens, neighboring state Sikkim ensures that the woolens and handicraft of the region offer more diversity. The busy streets of Kolkata and serene lawns of Shantiniketan invite travelers into a warm embrace.
Silk from Murshidabad and Bishnupur spoils you with choices. The scenic beauty of Himalayan Siliguri simply takes your breath away. Medinipore challenges you to slow down and savor its famous sweets. The coastal resort town of Digha beckons with its dune-backed beaches.
The uniquely named 24 Parganas (the only city in the world with an alpha-numeric name) is home to Sunderbans, home of the famous white Bengal Tiger.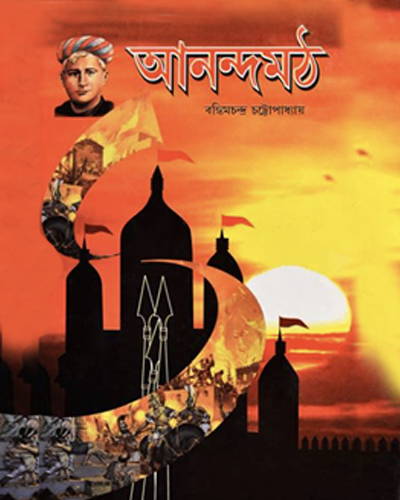 That's the thing about the books, they let you travel without moving your feet- Jhumpa Lahiri
Bengal's very own Sherlock Holmes, the image of brooding hottie Prodosh Mitter Feluda with his whip smart demeanour and dynamic personality, as he's constantly working on his 'Mogojastro'.
Byomkesh Bakshi- Satyanweshi' (the seeker of truth) Byomkesh and his partner Ajit became a cult in their own right as they set about solving crimes with oodles of style. Makorshar Rosh ,Adim Ripu , Shajarur Kanta are some all time favourites.
As I sit down to tell my story in this fading afternoon of my wandering life, I am flooded with memories." Sarat Chandra Chattopadhyay in Srikanta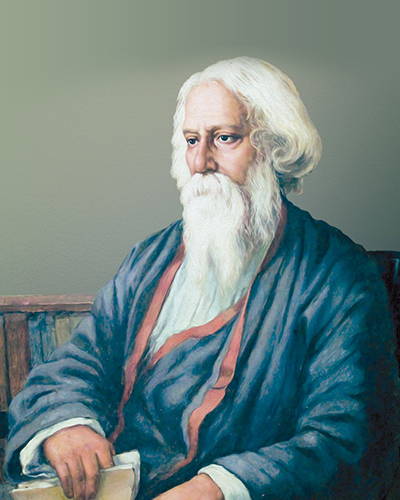 "It is very simple to be happy, but it is very difficult to be simple"-
Rabindra Nath Tagore
"Bangali Sanskriti O Bangalir Baisistha"
(Bengali culture and Bengalis' distinctiveness)
"Lekha para korey jey, gadi ghoda chorey shey"
(If you are educated, you get affluence)

"Pronoy, Porinoy, Poribaar"
(Love, Marriage and Family)
"Bhalobashar nouka pahaŗ boie jae"
(The boat of affection ascends mountains.)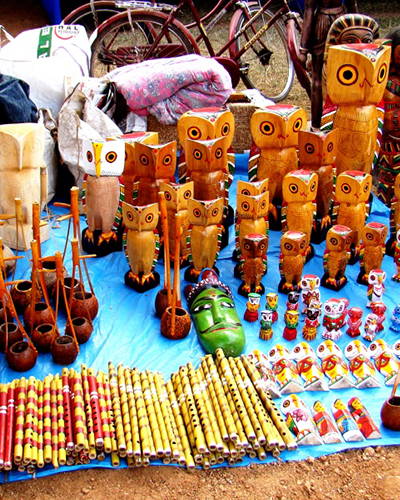 Bengal is renowned for its expertise in art and craft around the world. Ask Bengalis, and they will exclaim "Shantiniketan is not a place, its a way of life!" The ancient Dhokra art, named after the Dhokra Kamar tribe created using metal wires and "lost wax" technique has been around for centuries, and the evidence of this type of casting of copper-based alloys has been found in China, Egypt, Malaysia, Nigeria, and Central Americas too.
The serenity and calm of Shantiniketan Art are free-spirited and liberating, the epitome of Bengali Art and Crafts. To me, these are not just art and craft items, these are living, breathing ecosystems of love, passion, The art and craft respond to the surroundings it takes birth in, and the surroundings get reflected in these beautiful pieces!
Every handcrafted masterpiece has an untold story that unravels itself to its owner, bringing them closer to Bengal...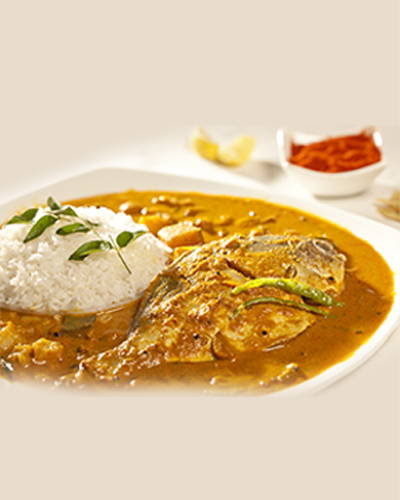 When you are far away, the only way back home is through the food on your plate. For most Bengalis, food has been part of their family traditions. Who has to cry over spilled milk when you can turn it into sweets like Sandesh and Rossogullas?
Mishti Doi is the emblematic food of Bengal, and where else will you get football clubs to fight over food? An East Bengal victory leads to a celebration of the hilsa; a Mohun Bagan win means a spike in prawn prices. And don't forget the snacky puchka, a burst of flavors right into your mouth or the spicy ghooghni.
Bengali cookbooks were amongst the first published works in the world, and tampering with a recipe of Biryani or Shukto is like putting a mustache on MonaLisa's portrait, worthy of inviting the famous Bengali wrath.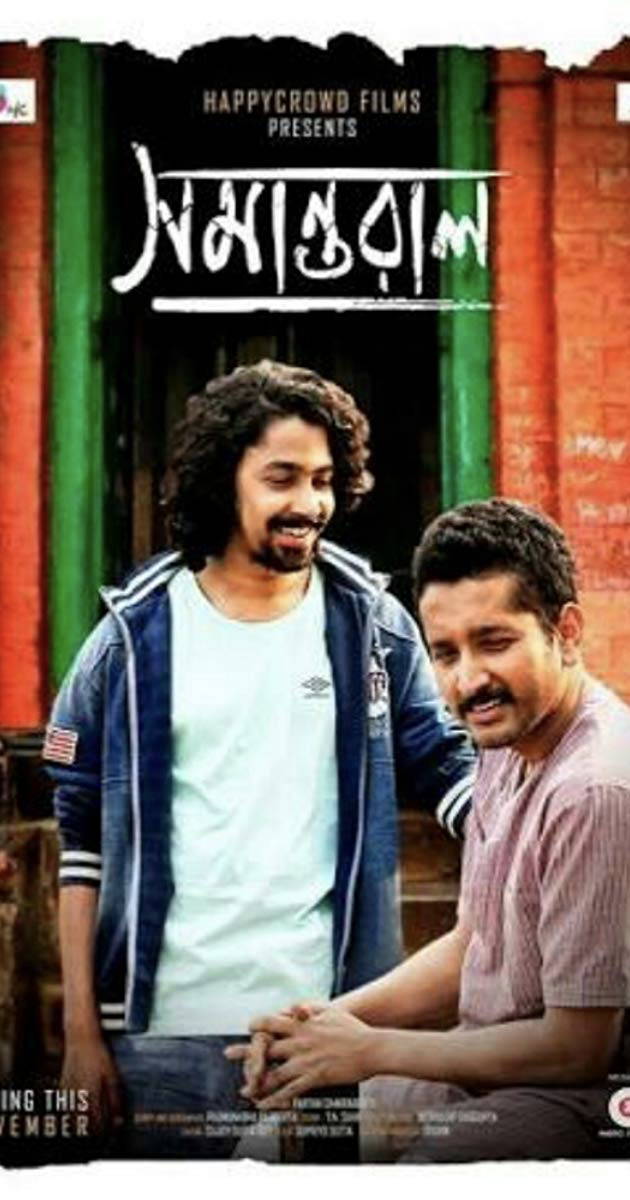 Satyajit Ray famously said,
"Cinema's characteristic forte is its ability to capture and communicate the intimacies of human mind."
The maestro's Pather Panchali and Goopy Gayne Bagha Byne or the hilarious Heerak Rajar Deshe are sharp reflections of Bengali society.
Bengali Cinema is all about cinematic excellence, and box-office success has little or no meaning here. Whether its the famous Feluda series or enigmatic movies like Drishtikone or Samantral, Bengali movies have the potential to jump across the boundaries of language and have universal appeal, having strong messages not just for the Bhadralok society but for every cinema lover.
It is wrong to call Bengali cinema "Tollywood" because truly it has no Pratidwandi, another Satyajit Ray gem whose famous dialogue loosely translates as:
"One day a day will come when you will start to believe that you, yourself are good for nothing but You know that's not true."